I always find that certain movies are best watched at specific times of the year. Obviously, in this case, I'm referring to Christmas movies (much like I did previously with Halloween). Everyone has their own favorite Christmas movies they have to watch each year, and I am no different. I'm not even sure my list is that different than other people. I did notice, while looking at my list, that I picked movies from different decades. So, I decided to work back chronologically with my 5 favorite Christmas movies instead of any sort of preferential order:
Elf (2004)
- "
It's just like Santa's workshop! Except it smells like mushrooms... and everyone looks like they wanna hurt me..."
Will Ferrell, the oft-hilarious man-child, makes himself quite at home as an adopted elf man-child who decides to find his real family. Ferrell manages to come off completely believable and sincere as the child-like Buddy. A funny and family friendly movie for the holidays that also includes James Caan and the always likable Zooey Deschanel.
(95 minutes - Rated PG for some mild rude humor and language) (Netflix)
Muppet Christmas Carol (1992)
- "
A blue, furry Charles Dickens who hangs out with
a rat?"
I've always loved the Muppets for their hilarious antics that amuse young and old. Their two takes on literary stories (this and Treasure Island) are two of my favorites. First of all, you have Michael Caine as Scrooge. How can you go wrong with Michael Caine? Then, of course, you have the assorted gang of muppets filling in various roles from Bob Cratchit to Charles Dickens himself. Mix in several fun (and funny) songs and you have one fantastic adaptation of Dickens' classic, with a muppet twist of course.
(89 minutes - Rated G) (Not available on Netflix)
Is this movie a classic because it's aired 24 hours straight on Christmas, or does it air 24 hours straight because it is a classic? Obviously, to many people, myself included, it is the latter. Full of memorable moments and quotable lines, "A Christmas Story" has become almost the personification of an American christmas: Ralphie's quest for that perfect present (
an Official Red Ryder Carbine-Action Two-Hundred-Shot Range Model Air Rifle) and the inevitable realization that the rituals of Christmas and the time spent with family are what really matter. It's only fitting then that it has become part of that tradition for many families out there, playing an endless loop on TV sets everywhere.
I realize that I have two separate version of Dickens' "Christmas Carol" on my list, but it's such a fantastic story and both movies are great examples of how the same story can be dressed up differently. Albert Finney is a squinty, whiny, curmudgeon of a Scrooge in this musical adaptation of the classic. Sir Alec Guinness even shows up as the ghost of Marley. The scenery is snowy and grimy, fitting for the coal era of London, and the songs are the kind you'd expect of a broadway version. It also adds a few things that don't take away from the story, and in the case of the ending, I almost enjoy it more (They don't dramatically change the end, just execute it a bit differently).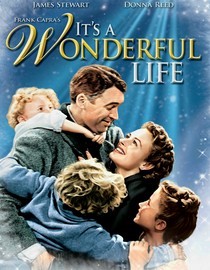 It's A Wonderful Life (1946)
-
"I wish I had a million dollars...Hot Dog!"
What can I say about this classic that hasn't already been said. James Stewart, a film icon in my opinion, in his most famous role and Donna Stewart, under appreciated in her role, lead the cast in this must watch annual movie. A redemption story framed around Christmas that actually spends more time on back-story than actual holiday tidings. Great characters, great story, an all-time great. Not much else to say.
Honorable Mention: Home Alone, Die Hard
Note: I didn't include any of the TV specials such as Charlie Brown or Rudolph since they first aired on TV. I pretty much enjoy them all, so consider any of the Rankin Bass along with Charlie Brown and the Grinch as my separate TV Movie list.